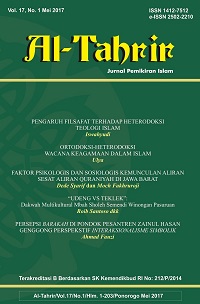 Al-Tahrir: Jurnal Pemikiran Islam
Al-Tahrir is published by IAIN Ponorogo twice a year in Mei and November as a medium for dialogue on the development of Islamic thought and have Accredited Higher Education Decree Number: 64a / DIKTI / Kep / 2010. Then it was accredited again based on the Minister of Education and Culture No. 212 / P / 2014.
Al-Tahrir invites enthusiasts studies Islamic thought to contribute articles in accordance with scientific standards. Editors reserve the right to revise without changing the content and purpose of writing.
P-ISSN: 1412-7512
E-ISSN: 2502-2210
View Journal | Current Issue | Register
Cendekia: Jurnal Kependidikan Dan Kemasyarakatan
Jurnal Cendekia diterbitkan oleh Fakultas Tarbiyah dan Ilmu Keguruan IAIN Ponorogo setahun dua kali. Jurnal Cendekia mempunya dua versi, yaitu cetak dan online yang semuanya sudah terdaftar ISSN.
ISSN : 1693-1505(cetak) dan 2477-796X (Online).
Jurnal Cendekia terbit bulan Juni dan Desember berisi kajian tentang Kependidikan (Islam/Umum) dan Kemasyarakatan.
View Journal | Current Issue | Register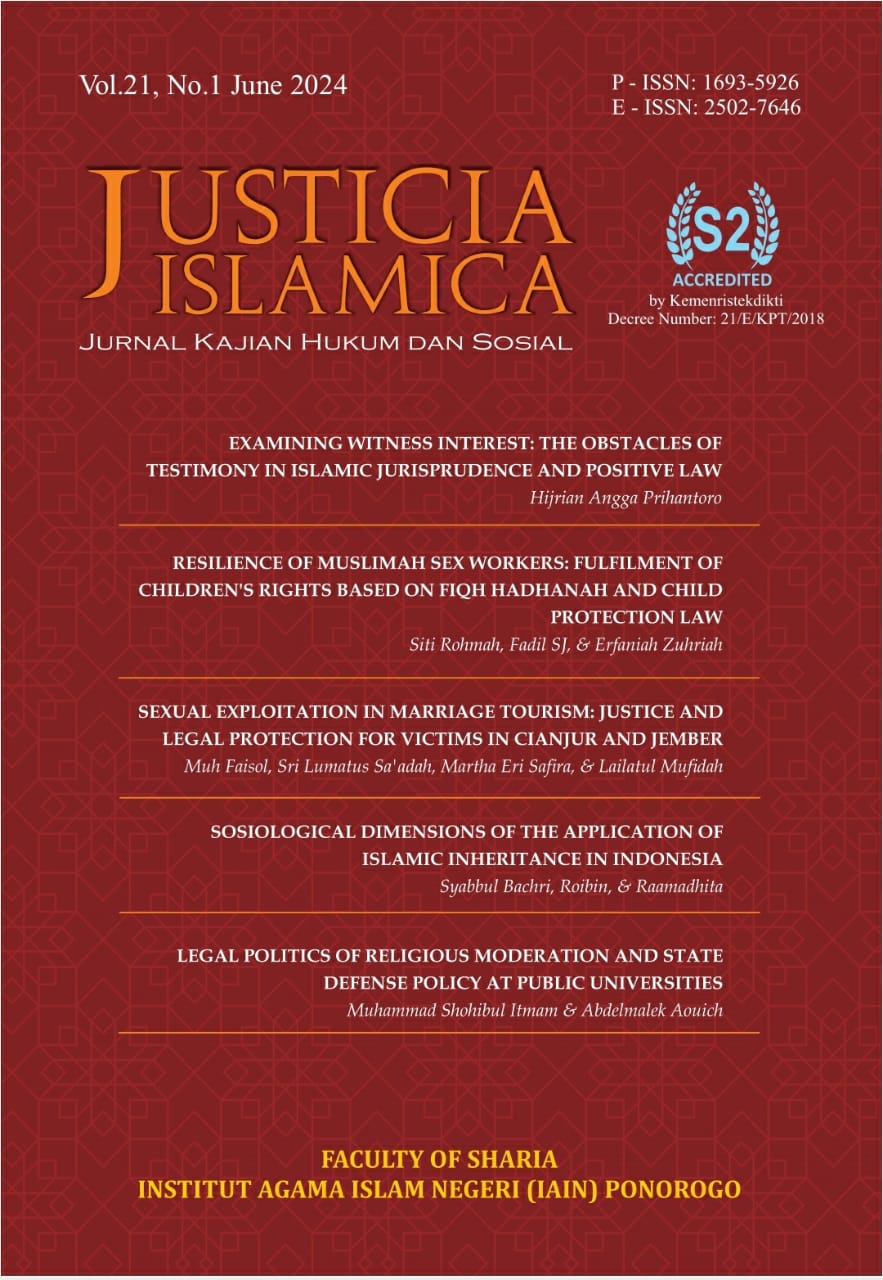 Justicia Islamica
Justicia Islamica Published by Faculty Of Sharia IAIN Ponorogo. Justicia Islamica has been accredited (Sinta 2) by The Ministry of Research Tecnology and Higher Education of the Republic of Indonesia (SK Dirjen Penguatan Riset dan Pengembangan Kementerian Riset, Teknologi, dan Pendidikan Tinggi No. 21/E/KPT/2018). Editor accepts writings of the results of conceptual thingking and research in the fields of law, Islamic law, Islamic economic law, and Social Problems that have never been published.
View Journal | Current Issue | Register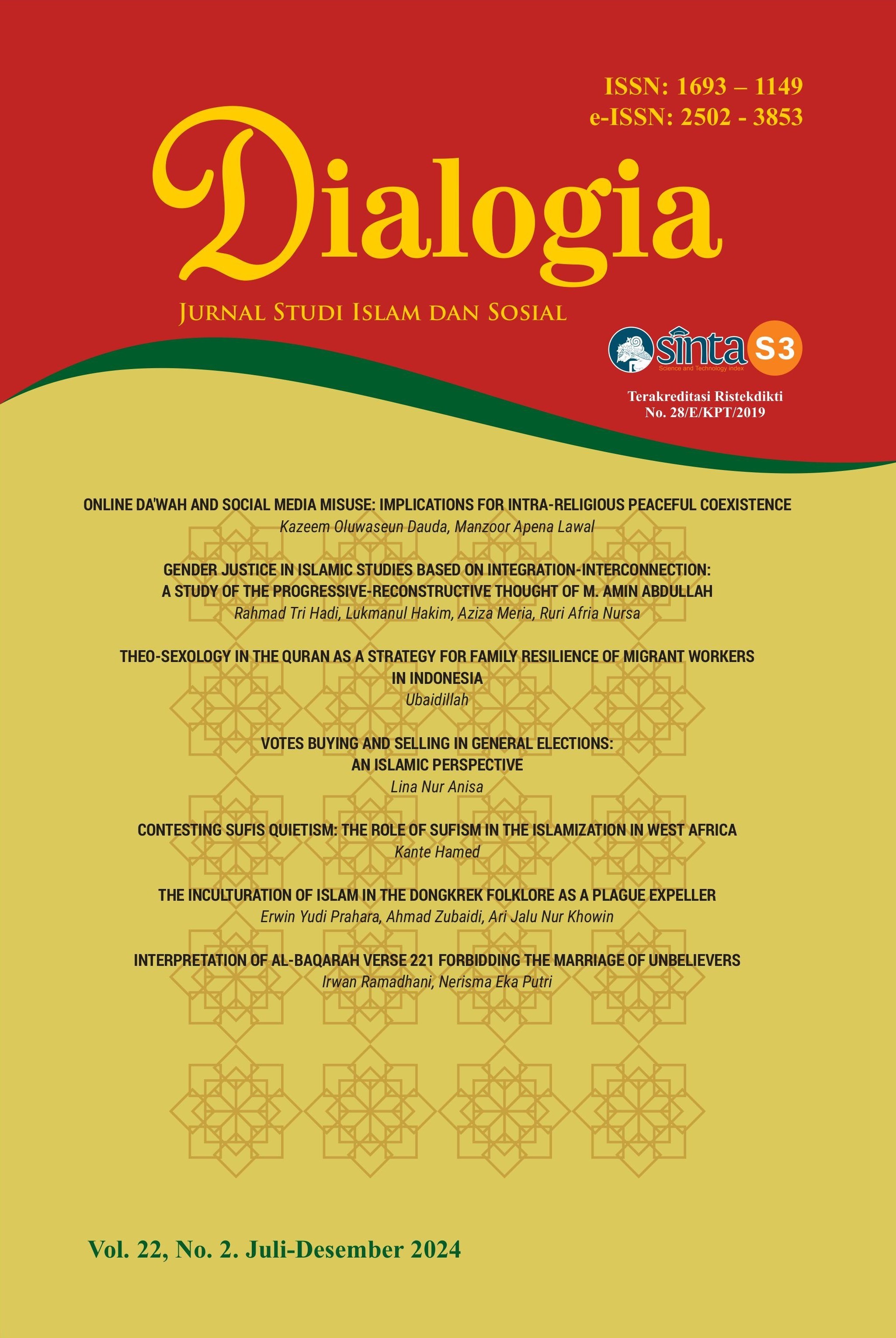 Dialogia: Jurnal Studi Islam dan Sosial
Dialogia merupakan jurnal enam bulanan yang diterbitkan oleh Fakultas Ushuluddin, Adab dan Dakwah IAIN Ponorogo. Dialogia menerima tulisan ilmiah hasil pemikiran konseptual dan hasil penelitian yang belum pernah dipublikasikan, terutama yang berhubungan dengan studi Islam dan sosial. Penyunting berhak melakukan revisi untuk keragaman format, istilah, dan catatan kaki tanpa mengurangi dan mengubah isi dan maksud tulisan. Tulisan yang dimuat akan memperoleh 4 eksemplar  hard copy. Alamat Penyunting: Jln. Pramuka 156 Po Box 116 Ponorogo 63471 Telp. (0352) 481277 Fax. (0352) 461893. email dialogia@iainponorogo.ac.id atau 081553815164 (arif)
ISSN    : 1693-1149 (cetak)
e-ISSN : 2502-3853 (Online).
View Journal | Current Issue | Register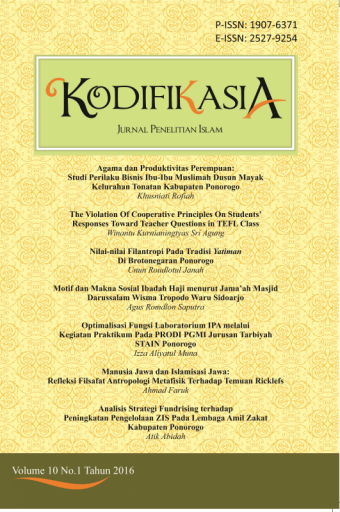 Kodifikasia : Jurnal Penelitian Islam
Kodifikasia is a journal based on Islamic research brought out by LPPM State Institute for Islamic Studies (IAIN) of Ponorogo. This journal first published in 2010 to facilitate the publication of research, articles, and book review. The Journal issued biannually in June and December. Kodifikasia invited the writer and the researcher to be participated in publishing the articles through 
http://jurnal.iainponorogo.ac.id/index.php/kodifikasia/index
. For Further Information, visit our office at Kantor Pusat IAIN Ponortogo, Lt. 1, Jalan Pramuka, 156, or email address: kodifikasia@iainponorogo.ac.id
View Journal | Current Issue | Register
Pustakaloka
PUSTAKALOKA: Jurnal Kajian Informasi & Perpustakaan is a peer-reviewed journal taken from the library of IAIN Ponorogo on Information and Library Science. PUSTAKALOKA is published twice annually (June and Nopember) by the journal editors from the Library IAIN Ponorogo in cooperation with the Asosiasi Perpustakaan Perguruan Tinggi Islam (APPTIS) Jawa Timur.
Every received article will be reviewed by the journal editors and external editors and reviewers who are competent in each related field. The review uses double-blind peer review before the journal is published. PUSTAKALOKA will publish selected paper under a Creative Commons Attribution ShareAlike 4.0 International License. And, every article is free of charge for authors and readers.
ISSN CETAK: 2085-2118
ISSN ONLINE: 2502-4108
View Journal | Current Issue | Register
Muslim Heritage
Muslim Heritage is a journal which concern on Islam and realities, published by the Postgraduate of State Islamic Institute (IAIN) Ponorogo, East Java in cooperation with the Association of Graduate Lecturer. Muslim Heritage was first published in May 2016. It is semi annual journal published in May and November. Editors accept scientific articles and result of research in accordance with its nature such as: Islam and contemporary issues, anthropology, education, economics, sociology with particular emphasis on multidisciplinary approaches. Muslim Heritage  has been indexed by DOAJ, Morarref, IPI, IOS, Google Scholar, DRJI, Crossref, etc. Muslim Heritage has become a CrossRef Member since the year 2016. Therefore, all articles published by Muslim Heritage will have unique DOI number.
Its located at 1st floor Postsraduate Building, Jl. Pramuka 156 Ponorogo, East Java 63471. Please submit your articles our link: http://jurnal.stainponorogo.ac.id/index.php/muslimheritage
E-mail:muslim.heritage@iainponorogo.ac.id
p-ISSN: 2502-535X e-ISSN: 2502-5341
View Journal | Current Issue | Register
El-Barka: Journal of Islamic Economics and Business
El Barka is a semiannual journal published by the Faculty of Islamic Economics and Business IAIN Ponorogo and cooperate with Ikatan Ahli Ekonomi Islam Indonesia (IAEI). El Barka accepts original scientific writings that have never been published in the field of economics, islamics economics and business, including conceptual thoughts, research reports, case reports, application of theory, critical studies and literature reviews. 
Its located at:
Fakultas Ekonomi dan Bisnis Islam IAIN Ponorogo
Kampus II Krajan Pintu Jenangan Ponorogo 63492 Telp. (0352) 3576565 Fax. (0352) 3591451 E-mail: elbarka@iainponorogo.ac.id
p-ISSN: 2657-1153
e-ISSN: 2657-1862
View Journal | Current Issue | Register
1 - 8 of 8 Items