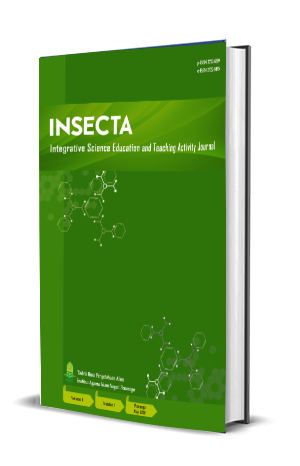 Integrative Science Education and Teaching Activity Journal [e-ISSN 2722-8495 | p-ISSN 2722-8509] is published by Science Education Department, Faculty of Education and Teachers Training, Institut Agama Islam Negeri (IAIN) Ponorogo as a medium to improve the creativity of teachers (especially science teacher), lecturers, academics, practitioners, researchers, relating to the science education and teaching activity. The Journal provides a peer-reviewed, academically rigorous and professionally recognized venue for the publication.
This journal publishes original articles on the latest issues and trends occurring internationally in Natural Science, Integrative Science Education and Teaching Activity (include about curriculum, instruction, learning, the policy of education ministry, and preparation of science teachers with the aim to advance our knowledge of science education theory and practice). In addition to original articles, the journal features the following special sections: 
Pure or Natural Science: consisting of theoretical and empirical research studies on natural science (the pure concept of biology, physics, chemistry, or science application).
Integrative Science Education: consisting of integrative between concept of physics and biology in learning, between biology and chemistry, and otherwise. Maybe the science concept can be integrating with Islamic studies, and so on. Using all types of integrating in science and the application. about science learning in everyday life (consisting of analytical, interpretative, or philosophical papers regarding learning science outside of the formal classroom)
Teaching Activity: consisting of theoretical and empirical research studies on learning of science. We invite manuscripts that investigate learning and its change and growth from various lenses, including psychological, social, cognitive, sociohistorical, and effective. Studies examining the relationship of learning to teach, the scientific knowledge and practices, the learners themselves, and the contexts (social, political, physical, ideological, institutional, epistemological, and cultural) are similarly welcome. In addition, maybe about Science Teacher Education, science education policy, comments, and criticism provides a forum for the expression of differing viewpoints and the correction of misunderstanding regarding topics in published papers
Science Teacher Education: consisting of original empirical and/or theoretical research that examines the preparation of teachers, the work of teachers, or how teachers' work is influenced by a broader context. "Teacher education" refers to development throughout the continuum of one's teaching career, from pre-service, through induction, into advanced professional stages of teaching. and the last is about issues and trends (ist about a primarily of analytical, interpretive, or persuasive essays on current science, educational, social, or philosophical issues and trends relevant to the teaching of science).
The journal is published twice a year in May and November.
Vol 2, No 2 (2021)
Table of Contents
Articles