Justicia Islamica Journal Kajian Hukum dan Sosial (p-ISSN: 1693-5926, e-ISSN: 2502-7646) is a peer-reviewed journal published by the Faculty of Sharia, State Institute of Islamic Studies (IAIN Ponorogo), Indonesia. The editor's welcome contributions in the form of scientific articles to be published after undergoing a manuscript selection mechanism, peer-review, and editing proofers. It is covered both literary and fieldwork studies.
The scope of this journal deals with a broad range of topics in the fields multidisciplinary study on Islamic Law from around the word, in particular issues related to Islamic Jurisprudence, Islamic Legal Theory, Law in Modern Muslim Countries, Sharia and Comparative Law, Shariah and Constitutional Law, Sharia and Environment Law, Global Sharia Institution, Customary International Law, International Islamic Law, Halal Industries.
Justicia Islamica is accredited by the ministry of Research, Technology, and Higher Education of Indonesia since 9 July 2018 based on the Decree Number 21/E/KPT/2018. Member of Crossref.org; all published articles in this journal will have a unique DOI number.
Justicia Islamica, published twice a year (June and December). It was firstly published in 2004 (printed edition). Then, it has migrated gradually to an electronic journal system in 2015 (Open Access). It is now a full online journal, and it only accepts manuscript submissions written in English and Arabic.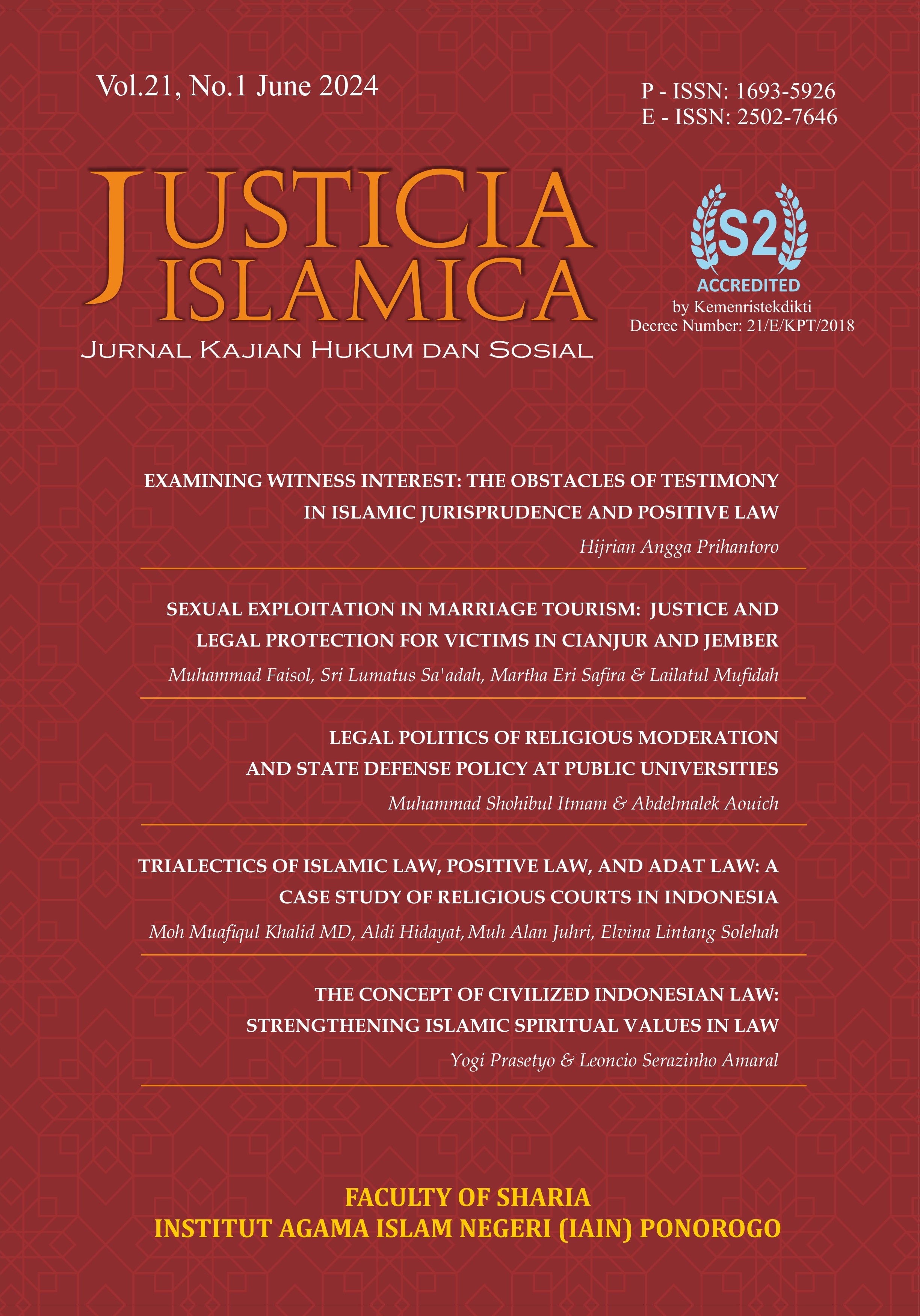 CALL FOR PAPERS

Justicia Islamica invites authors to publish their manuscript for Vol 18, No 1 & 2, 2021.
Articles submitted might cover topical issues in the fields of multidisciplinary study on Islamic Law from around the world, in particular issues related to Islamic Jurisprudence, Islamic Legal Theory, Law in Modern Muslim Countries, Sharia and Comparative Law, Sharia and Constitutional Law, Sharia and Environmental Law, Global Sharia Institution, Customary International Law, International Islamic Law, Halal Industries.


📢 Submission deadline: March 31, 2021 for Publishing June 2021 and Oct 30 for Publishing Dec 2021.
Posted: 2020-06-01
Table of Contents
Articles
Author(s): Sukron Mamun, Ilyya Muhsin

| Statistics: 356 view, 140 download

185 - 204

Author(s): Rosdiana Rosdiana, Ahmad Bahtiar

| Statistics: 131 view, 70 download

205 - 222

Author(s): Taufiq Hidayat, Raihanah Azahari

| Statistics: 1053 view, 207 download

223 - 242

Author(s): Iswahyudi Iswahyudi

| Statistics: 58 view, 43 download

243 - 260

Author(s): Samsul Samsul, Mohd. Fauzi Abu Husen

| Statistics: 172 view, 34 download

261 - 280

Author(s): Martha Eri Safira, Dewi Iriani, Neneng Uswatun Hasanah

| Statistics: 178 view, 127 download

281 - 298

Author(s): Atik Abidah

| Statistics: 220 view, 38 download

299 - 322

Author(s): Zikri Darussamin, Rahman Rahman, Imam Ghozali

| Statistics: 126 view, 100 download

323 - 342

Author(s): Al Farabi

| Statistics: 56 view, 21 download

343 - 364

Author(s): Bambang Suhada, Agus Alimuddin, Lisda Aisyah

| Statistics: 324 view, 132 download

365 - 382
Editorial Information
Front Matter

Author(s):

| Statistics: 1 view, 6 download

Back Matter

Author(s):

| Statistics: 1 view, 2 download