Justicia Islamica Jurnal Kajian Hukum dan Sosial is a peer-reviewed journal published by the Faculty of Sharia, State Institute of Islamic Studies (IAIN) Ponorogo, Indonesia. This scholarly journal of Islamic law studies and seeks to present the various results of the latest research, both conceptual-doctrinal and empirical, in the field. The editors welcome contributions in the form of articles to be published after undergoing a manuscript selection mechanism, peer-review, and editing process.
The scope of the articles published in this journal deals with a broad range of topics in the fields of Islamic Law; Islamic Jurisprudence (Fiqh); Islamic Legal Theory (Usul al-Fiqh); Law in Modern Muslim World (Legislation/Codification, Statutes, Regulations, Legal Professions, and Institutions); and Comparative Law, Law & Religion, or Law & Social/Society which intersects with Islamic Law.
Justicia Islamica accredited by the Ministry of Research, Technology, and Higher Education of Indonesia since 9 July 2018 based on the Decree Number 21/E/KPT/2018. Member of Crossref.org; all published articles in this journal will have a unique DOI number.
Justicia Islamica is published twice a year in June and December. It was firstly published in 2004 (printed edition). Then, it has migrated gradually to an electronic journal system in 2015 (Open Access). It is now a full online journal, and it only accepts manuscript submissions written in English or Arabic.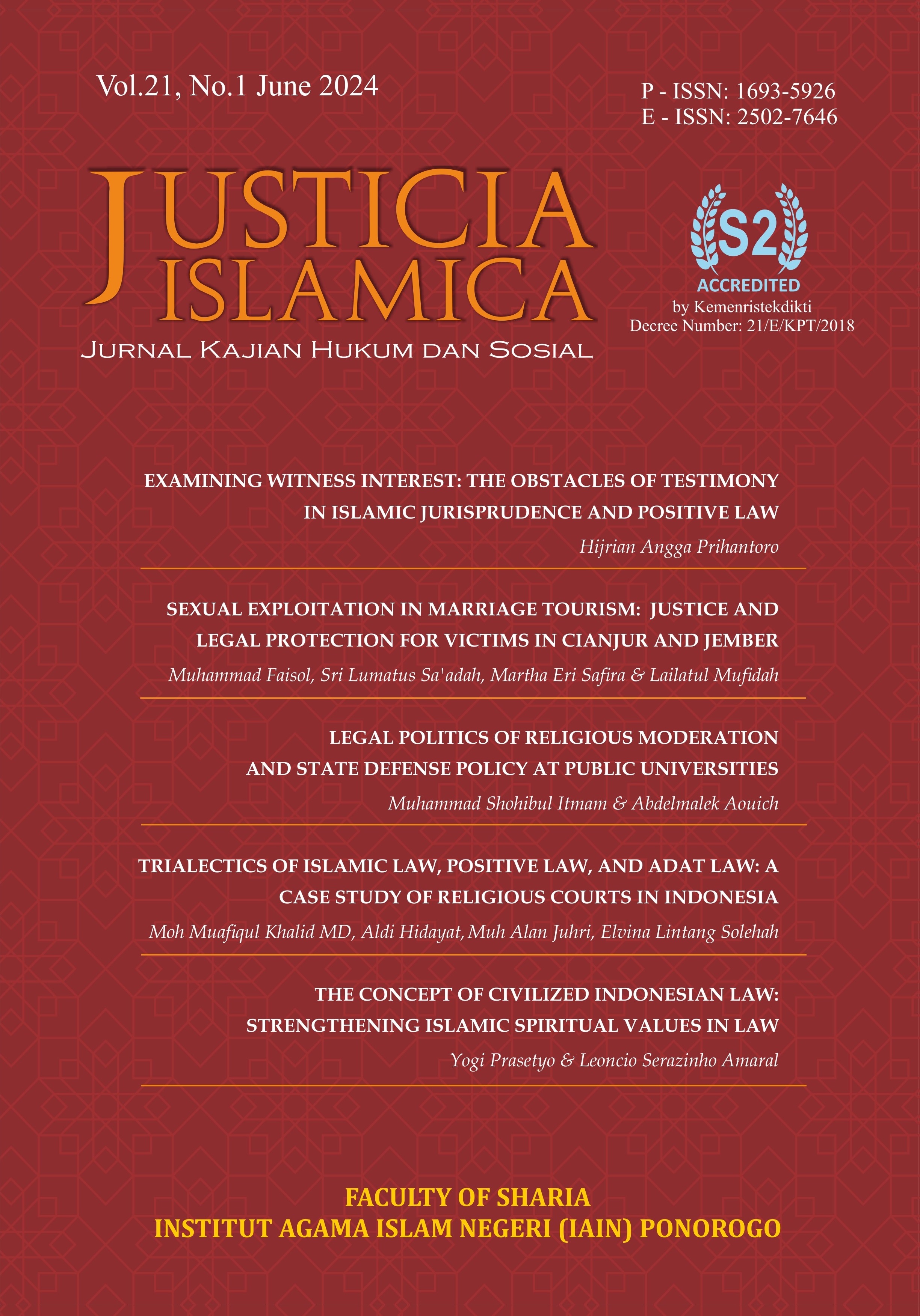 CALL FOR PAPERS

Justicia Islamica invites authors to publish their manuscript for Vol 18, No 1 & 2, 2021.
Articles submitted might cover topical issues in Islamic Law, Islamic Jurisprudence, Islamic Legal Theory, Law in Modern Muslim World, Comparative Law, Civil Law, Constitutional Law, Environmental Law, Law & Religion, Law & Society, Law & Economic


📢 Submission deadline: March 31, 2021
Posted: 2020-06-01
Table of Contents
Articles
Author(s): Fuady Abdullah, Moh. Mukhlas

| Statistics: 466 view, 124 download

1-16

Author(s): Wildani Hefni

| Statistics: 398 view, 72 download

17-34

Author(s): Syaiful Bahri

| Statistics: 227 view, 58 download

35-52

Author(s): Sukma Indra, Muhammad Lutfi Hakim, Rofiul Wahyudi

| Statistics: 214 view, 60 download

53-72

Author(s): Iffatin Nur, Muhammad Ngizzul Muttaqin

| Statistics: 214 view, 66 download

73-91

Author(s): Ria Rahma, Mohamed Shafei Moftah Bosheya

| Statistics: 142 view, 23 download

92-108

Author(s): Meirison Meirison

| Statistics: 192 view, 36 download

109-127

Author(s): Burhanuddin Susamto

| Statistics: 146 view, 31 download

128-147

Author(s): Danu Aris Setiyanto

| Statistics: 314 view, 56 download

148-165

Author(s): Khoirul Abror, Suhairi Suhairi, A. Kumedi Ja'far

| Statistics: 194 view, 43 download

166-184
Editorial Information
Front Matter

Author(s):

| Statistics: 1 view, 6 download

Back Matter

Author(s):

| Statistics: 1 view, 3 download