Justicia Islamica: Jurnal Kajian Hukum dan Sosial is a double-blind peer-reviewed journal published by the Faculty of Sharia, Institut Agama Islam Negeri Ponorogo, Indonesia. The journal publishes articles on Islamic Law from various perspectives, covering both literary and fieldwork studies. The Topics related to contemporary Islamic legal studies, with particular reference to Islamic law in Sosio legal perspective, Sharia and Human Rights, constitutional law in modern Muslim countries, etc.
Justicia Islamica
is accredited

 
(SINTA 2)
by the General Director of Strengthening Research and Development, Ministry of Research, Technology, and Higher Education of the Republic of Indonesia since 9 July 2018 based on the Decree Number 21/E/KPT/2018. In 2020, 
Justicia Islamica
was reaccredited

 
(SINTA 2)
on 23 December 2020 by Decree Number 200/M/KPT/2020. Member of CrossRef, all published articles in this journal will have a unique DOI number.
Justicia Islamica is published twice a year (June and December). It was firstly published in 2004 (printed edition). Then, it has migrated gradually to an electronic journal system in 2015 (Open Access). It is now a fully online journal, and available in English version from Vol 17 No 1 Year 2020.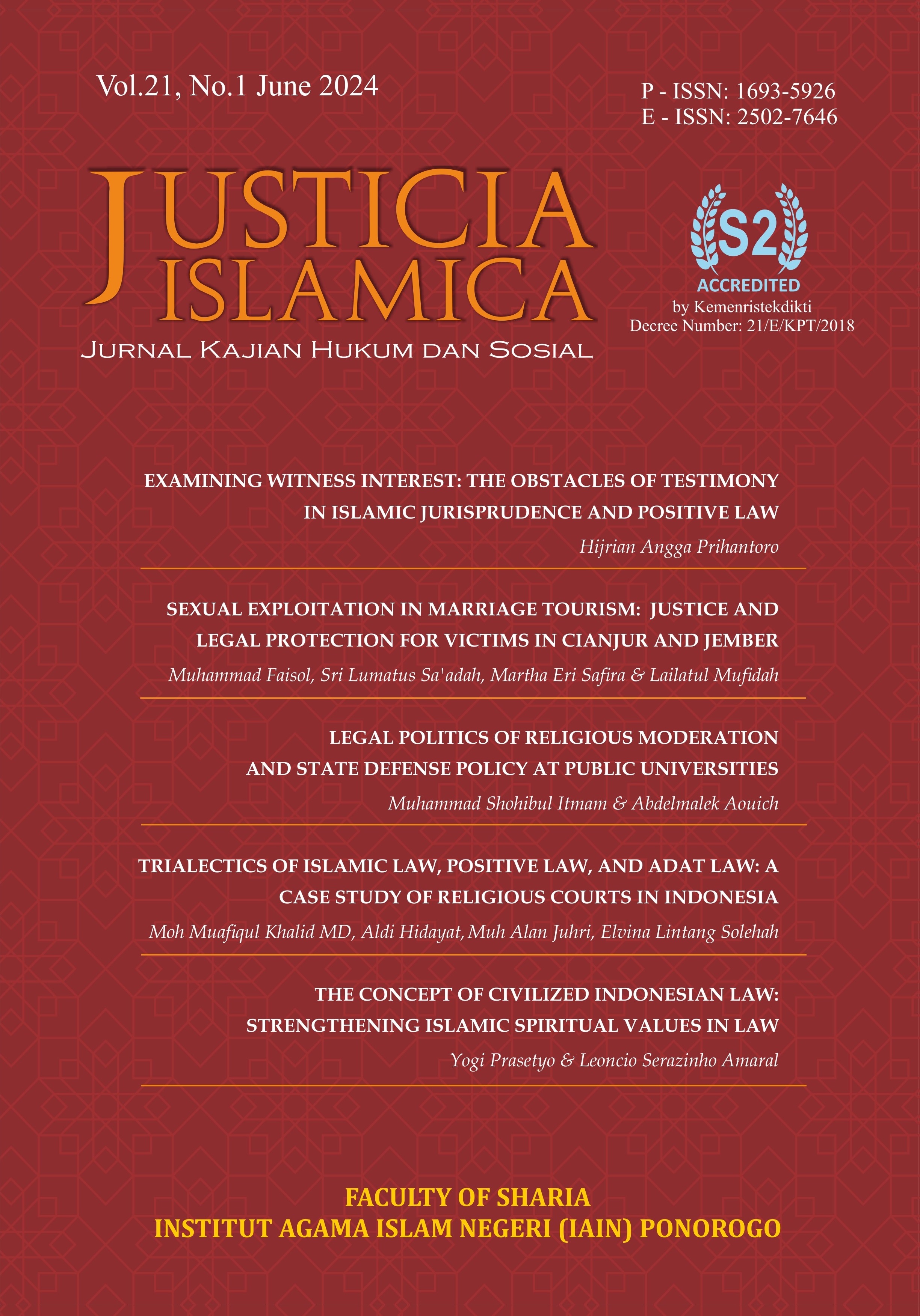 ISSN:
1693-5926
(Print) 
2502-7646
(Online)
First Publication:
 2004
Full English Language:
 2020 - present
Publisher:
Faculty of Sharia, Institut Agama Islam Negeri Ponorogo, Indonesia
Duration:
 Approx. 60 days to first decision
Acceptance Rate: 
35% of the total submissions
Frequency:
 2 (two) issues per year
DOI:
10.21154/justicia
Audience: 
Legal scholars, Students, Practitioners
Topic:
Mainstreaming Islamic Law in Society in a Various Global Context
Geographical Diversity: 
Australia, Germany, Indonesia, Malaysia, United Kingdom, Iraq, Tunisia, Turkiye, Qatar
Indexing:
SINTA,
Google Scholar
,
Dimensions
Call for Papers 2023

-





Posted: 2021-02-18
More...
Table of Contents
Articles
Author(s): Hasna Lathifatul Alifa, Ali Sodiqin, Bian Ambarayadi

| Statistics: 85 view, 128 download

193-214

Author(s): Suud Sarim Karimullah

| Statistics: 70 view, 32 download

214-240

Author(s): Deni Purnama, Asmuni Asmuni, Dhiauddin Tanjung

| Statistics: 47 view, 58 download

241-260

Author(s): Rahmi Hidayati, Illy Yanti, Muhammad Farhan HR, Shahrul Hilmi Othman

| Statistics: 117 view, 99 download

261-280

Author(s): Mukhammad Nur Hadi, Faridatus Suhadak, Zuliza Mohd Kusrin

| Statistics: 95 view, 34 download

281-300

Author(s): Rooza Meilia Anggraini, Anis Hidayatul Imtihanah, Yudhi Achmad Bashori

| Statistics: 20 view, 13 download

301-320

Author(s): Abu Sahman Nasim, Nur Azizah Rahman, Iin Junisti Hamid

| Statistics: 11 view, 6 download

321-340

Author(s): Ismail Jalili, Fadillah Ulfa, Mualimin Mochammad Sahid

| Statistics: 36 view, 17 download

341-360