Justicia Islamica Jurnal Kajian Hukum dan Sosial (Journal of Law and Social Studies) has been accredited by the Ministry of Research, Technology, and Higher Education of Indonesia (SK Dirjen Penguatan Riset dan Pengembangan Kementerian Riset, Teknologi, dan Pendidikan Tinggi No. 21/E/KPT/2018). It is published by Faculty of Syariah, IAIN Ponorogo. Member of Crossref.org; all published articles in this journal will have a unique DOI number.
The aims of this journal is to provide a venue for academicians, researchers, and practitioners for publishing the original reserach articles or review articles. The scope of the articles published in this journal deals with a broad range of topics in the fields of Islamic Jurisprudence (Fiqh); Islamic Legal Theory (Usul al-Fiqh); Law in Modern Muslim World (Legislation/Codification, Statutes, Regulations, Legal Professions, and Institutions); and Comparative Law, Law & Religion, or Law & Social/Society which intersects with Islamic Law.
Justicia Islamica is published twice a year in June and December. It was firstly published in 2004 (printed edition). Then, it has migrated gradually to an electronic journal system in 2015 (Open Access). It is now a full online journal, and it only accepts manuscript submissions written in English or Arabic.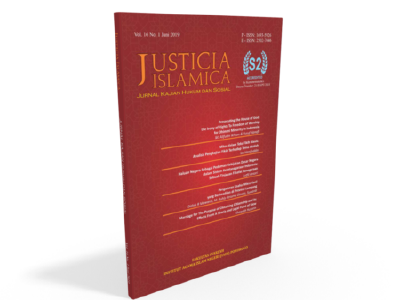 No announcements have been published.
Table of Contents
Articles
Author(s): Ridho Rokamah, Rif'ah Roihanah

| Statistics: 164 view, 83 download

219-246

Author(s): Abdurrohman Kasdi

| Statistics: 135 view, 33 download

247-268

Author(s): Yulia Kurniaty

| Statistics: 102 view, 37 download

269-290

Author(s): Yogi Prasetyo, Iffah Ja'a

| Statistics: 86 view, 19 download

291-318

Author(s): Musda Asmara, Rahadian Kurniawan

| Statistics: 122 view, 38 download

319-342

Author(s): Cucu Solihah, Dhody Ananta Rivandi Widjajaatmadja, Uus Ahmad Husaeni

| Statistics: 88 view, 12 download

343-366

Author(s): Muhammad Shohibul Itmam

| Statistics: 131 view, 26 download

367-394

Author(s): Yahyanto Yahyanto

| Statistics: 115 view, 35 download

395-426

Author(s): Nurainun Mangunsong

| Statistics: 68 view, 7 download

427-458

Author(s): Abdul Mun'im Saleh

| Statistics: 85 view, 22 download

459-478