Justicia Islamica Jurnal Kajian Hukum dan Sosial (p-ISSN: 1693-5926, e-ISSN: 2502-7646) is a double-blind peer-reviewed journal published by the Faculty of Sharia, Institut Agama Islam Negeri Ponorogo, Indonesia. The editors welcome contributions in scientific articles to be published after undergoing a manuscript selection mechanism, peer-review, and editing proofers. It is covered both literary and fieldwork studies.
Justicia Islamica is accredited (SINTA 2) by the General Director of Strengthening Research and Development, Ministry of Research, Technology, and Higher Education of the Republic of Indonesia since 9 July 2018 based on the Decree Number 21/E/KPT/2018. In 2020, Justicia Islamica was reaccredited (SINTA 2) on 23 December 2020 by Decree Number 200/M/KPT/2020. Member of CrossRef, all published articles in this journal will have a unique DOI number.
Justicia Islamica is published twice a year (June and December). It was firstly published in 2004 (printed edition). Then, it has migrated gradually to an electronic journal system in 2015 (Open Access). It is now a fully online journal, and it only accepts manuscript submissions written in English and Bahasa Indonesia. This journal available in English version from Vol 17 No 1 Year 2020.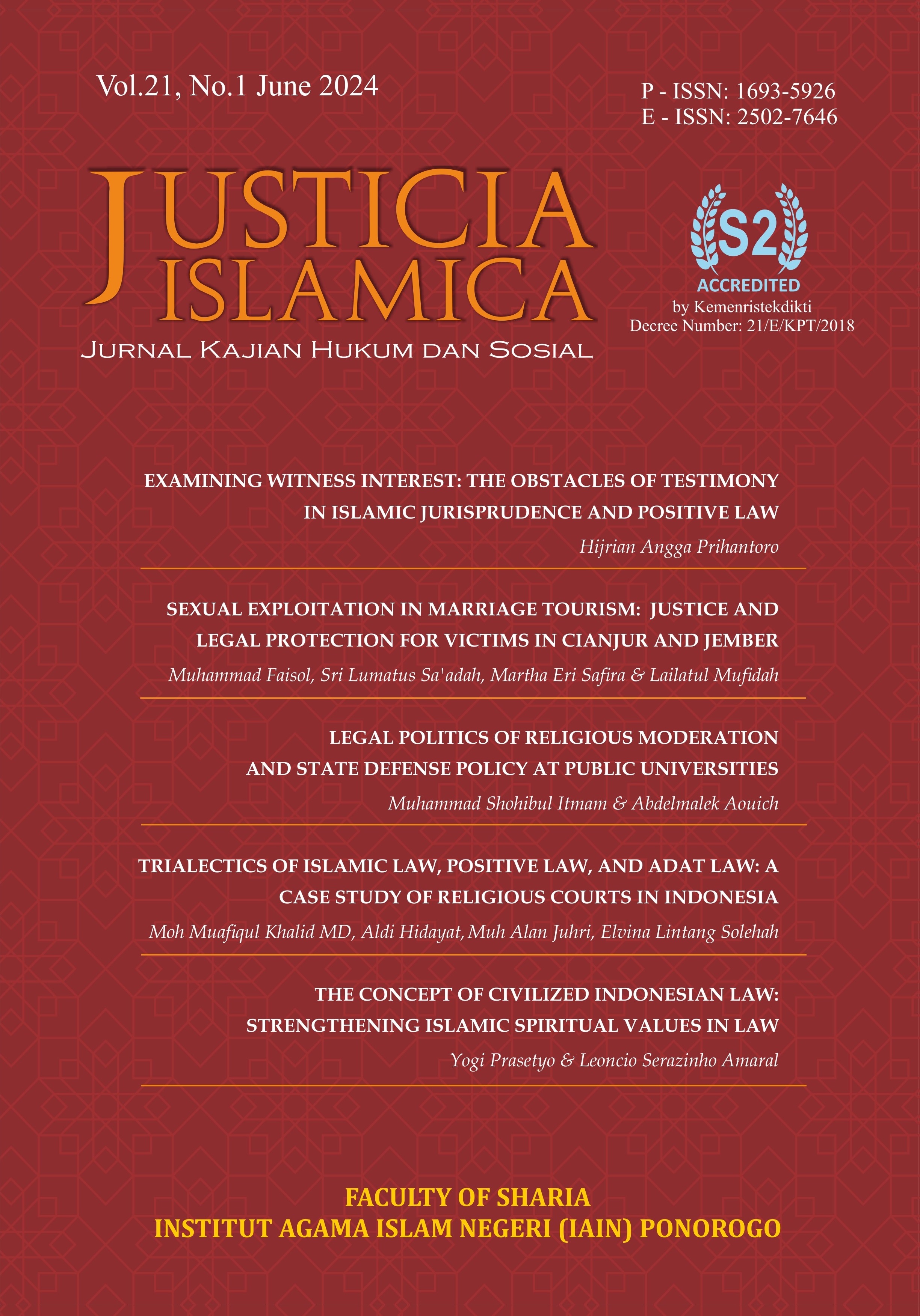 Call for Best Papers 2023

Justicia Islamica Vol 20, No 1 & 2, 2023

Articles submitted might cover topical issues in the fields of Interdisciplinary study on Islamic Law from around the world.

Deadline: vol 20 no 1 --> 30 March 2023 & vol 20 no 2 --> 30 Sept 2023





Posted: 2021-02-18
More...
Table of Contents
Articles
Author(s): Dyah Ochtorina Susanti, Rahmadi Indra Tektona, Siti Nur Shoimah

| Statistics: 77 view, 65 download

193-210

Author(s): Mochammad Sodik, Gufron Gufron, B.J. sujibto

| Statistics: 92 view, 84 download

211-228

Author(s): Muhammad Zuhirsyan, Pagar Pagar, Ansari Yamamah

| Statistics: 46 view, 47 download

229-246

Author(s): Abdulazeem Abozaid

| Statistics: 46 view, 15 download

247-

Author(s): Zubir Zubir, Muhazir Muhazir, Zulham Wahyudani

| Statistics: 78 view, 28 download

Author(s): Ariman Sitompul, Arie Kartika, Windy Sri Wahyuni

| Statistics: 36 view, 12 download

Author(s): Ahmad Fadholi

| Statistics: 47 view, 30 download

Author(s): Muhammad Yasir Fauzi, Agus Hermanto, Saiyah Umma Taqwa

| Statistics: 27 view, 7 download

Author(s): Nihayatur Rohmah

| Statistics: 20 view, 11 download

Author(s): Safri Yadi

| Statistics: 31 view, 17 download